Damascus steel knives are my downfall.
Call me crazy (crazy!), But that design with the layered steel seen is insane. And look, I'm not "posh" for these things, but the damask is the damask friends.
Of course, I have expensive customs. These knives are even more expensive than professional sets.
Now: which one to buy? Are all brands the same?
I'm going to give you the keys so that they don't give you a hoot .
We started!
How is the Damascus Steel of knives?
Let me give you a little brushstroke: what are Damascus Steel Kitchen Knives?
Damascus, damascene or damascene steel is a material used since ancient times. It is made up of several types of steel forged together to achieve a beet pattern and achieve unique properties in both cutting and edge durability. Steels with different hardnesses and properties are generally mixed.
What Damascus steel knife do I recommend you buy?
I have no doubts, these are my three options.
Three knives for three very different types of public:
Shan Zu
The cheapest.
This brand belongs to the low range of Damascus knives.
They are industrially made, they are perfectly finished with the damask marked in perfect lines, but they lose the charm of hand-forged steels. Of course, the quality of the cutting edge is also not comparable to the higher models that I will show you later.
The Shan Zu handle is made of resistant polymers. Their touch is not the best, but they give a very comfortable grip.
The best thing is the price, around € 70, very little for a Damascus steel knife; and the quality of factory sharpening.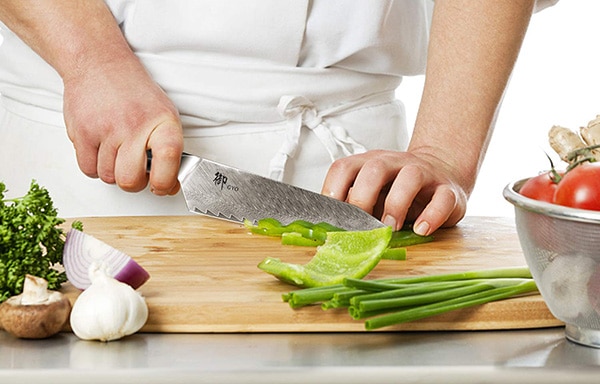 Kai Europe
The best for quality and price.
If you are a true fan, like me, of Damascus knives, I recommend you make an effort and buy a Kai Europe brand knife.
A jewel. Each piece is unique, hand-forged from the highest quality steels. And with handles cared to the millimeter in noble pakka wood.
Everything is perfect in Kai's Damascus knives. The best gift you can give a cook.
I recommend the classic knife from the Tim Mälzer Edition collection, it offers excellent value for money.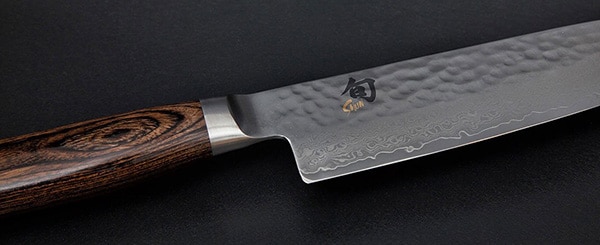 MIYABI 5000 Crown jewel.
The best Damascus steel knife is marketed by the MIYABI firm. This brand belongs to the well-known Zwilling, a conglomerate of leading German cutlery companies.
Because they are the best?
One sign is that the Torres Brothers have them in their kitchens. They bet on these damask models for the quality of the edge and the impressive smoothness of the handles.
The cutting edge is extremely precise and durable, it is made up of 100 layers of two plates of steel with different hardnesses. The handle is no less spectacular, the noble Masur birch wood gives it an unsurpassed appearance.
They have a 9-year guarantee.
Its price shoots up compared to that of the Kai knife, but we are talking about a TOP model from a TOP brand. If you want a model of unique design and quality, you have to pay this price. When you have it in hand you will understand.